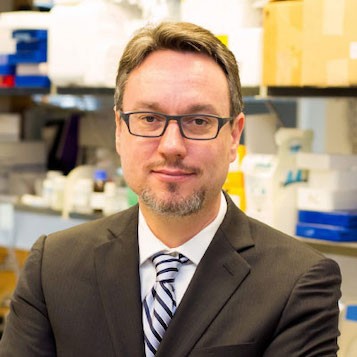 Brain Tumor Center at Siteman Cancer Center
We are pleased to announce that Alexander Stegh, PhD has been named as the inaugural research director of the Brain Tumor Center at Siteman Cancer Center, based at Barnes-Jewish Hospital and Washington University School of Medicine in St. Louis. He will also hold faculty appointments in Washington University's departments of Neurosurgery, Biomedical Engineering, and Chemistry.
Stegh currently serves as a researcher and associate professor of Neurology at Northwestern University, where he has been on the faculty since 2009. A national leader in the study of glioblastoma, Stegh is a member of the National Cancer Institute Glioblastoma Working Group. He has expertise in discovering the genetic drivers of the cancer and translating nanoparticle-based precision medicine approaches to brain cancer patients.
Stegh holds undergraduate degrees in biochemistry, immunology, and biophysics from Leibniz University in Hanover, Germany. He completed his PhD training in cell biology, biochemistry, and cancer biology at the German Cancer Research Center in Heidelberg, Germany, and the University of Chicago. His postdoctoral fellowship was completed at Dana-Farber Cancer Institute and Harvard Medical School.
Read the full press release here.