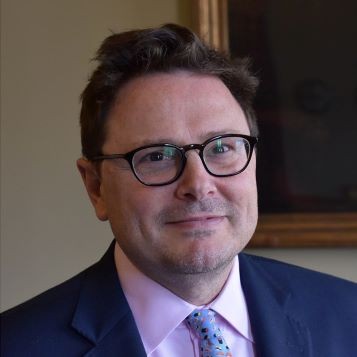 College of the Holy Cross
The College of the Holy Cross has selected Elliott Visconsi, a Class of 1995 alumnus, as the next Provost and Dean of the College. He will assume his new position on July 1. 

Elliott Visconsi will join the Holy Cross community from the University of Notre Dame, where he has served since 2018 as associate provost & chief academic digital officer. In this role, he leads Notre Dame's approach to innovative learning and teaching strategies—including digital learning, inter-institutional collaboration, and experimental models for the future of education. 

A scholar of early modern English literature, freedom of expression, and First Amendment law, Visconsi has been at Notre Dame since 2010. His academic research is devoted to law, literature and political thought in the early modern Anglo-American world, especially in relation to racial identity and religious pluralism; he also writes about academic freedom and free speech in the digital age, especially the interactions of disinformation, persuasion and democracy.

Visconsi holds a A.B. in English, cum laude, from the College of the Holy Cross, a Ph.D. in English literature from the University of California, Los Angeles, and an M.S.L. from Yale Law School. The recipient of distinguished fellowships from the Mellon Foundation and the American Council of Learned Societies, he often presents on matters related to academic freedom, campus freedom of speech in the digital age, and academic innovation to audiences at colleges and universities in the United States and abroad.

Anita Tien led this search with Keith Mason and Kristen Andersen.