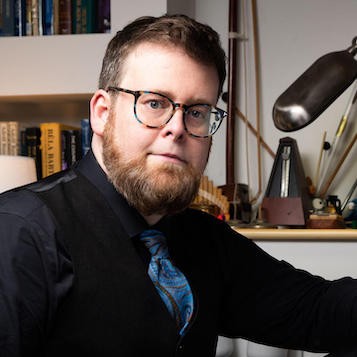 The Juilliard School
After a comprehensive national search, David Serkin Ludwig has been named as Dean and Director of the Music Division of The Juilliard School. He assumes his position on June 1, 2021.
David Ludwig comes to Juilliard from the Curtis Institute, where he helped shape the artistic direction of the school and its engagement with local and global communities through education, technology, and cultivation of a vibrant culture of new music. Ludwig currently serves as the Gie and Lisa Liem Artistic Advisor to the President, chair of composition studies, director of Ensemble 20/21, and artistic director of Curtis Summerfest. In addition to receiving a graduate diploma in composition from Juilliard (2002), Ludwig holds degrees and certificates from Oberlin Conservatory, Manhattan School of Music, and the Curtis Institute of Music as well as a PhD from the University of Pennsylvania.
As a committed advocate for diversity and inclusion in new music and programming, Ludwig serves on the national program committee of New Music USA and is a member of the distinguished mentors council of Composers Now. In addition, he has helped create opportunities for access to encourage a more diverse and equitable music community. His board service has included the Women's Sacred Music Project, dedicated to commissioning new works of faith from female-identifying composers, and the Primavera Fund, an organization committed to disrupting inequity in classical music through mentoring and financial support. At Curtis, Ludwig helped initiate the George Walker Fellowship, an annual full-tuition award given to a young composer from an underrepresented community participating in the Young Artist Summer Program. This year, Ludwig has led Curtis' partnership with the Sphinx Organization for its Summer Performance Academy (SPA) to establish the first SPA composition program.
Ludwig's works have been commissioned and performed by such prominent ensembles and artists as the Philadelphia Orchestra, Pittsburgh Symphony, Minnesota Orchestra, National Symphony, Chamber Music Society of Lincoln Center, and Carnegie Hall; as well as by Jonathan Biss, alumnus Jeremy Denk, Jaime Laredo, Jennifer Koh, David Shifrin, Eighth Blackbird, the Dover and Borromeo quartets, and the PRISM Saxophone Quartet. His music is currently featured on over a dozen commercial recordings, including a complete album of his choral music recorded by the Choral Arts Society.
IM Partner Sheryl Ash led this search with Bryce Gilfillian and Alaine Small.