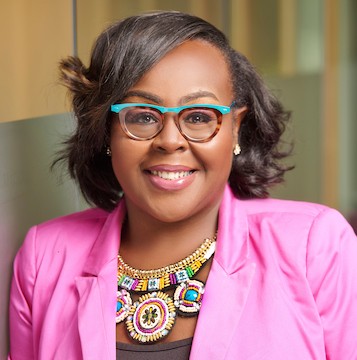 National Legal Aid & Defender Association
Following an extensive national search, Isaacson, Miller is pleased to announce that April Frazier Camara, Esq., became the President & CEO of the National Legal Aid & Defender Association (NLADA) on November 1, 2021. April has been a champion for equal justice for two decades. A graduate of Howard School of Law, she worked as a public defender in her hometown of Memphis, Tennessee, and at the Public Defender Service (PDS) for the District of Columbia before joining NLADA. She has been a part of the NLADA leadership team for the past five years, previously serving as Vice President for Strategic Alliances & Innovation and formerly as Chief of Lifelong Learning. The NLADA Board of Directors is delighted that its Succession Committee chose one of NLADA's current leaders to be the next President & CEO following this expansive search.
April succeeded previous President & CEO Jo-Ann Wallace, who stepped down on October 29, 2021 to become President of NLADA's business partner, the NLADA Insurance Program (known as Service Corporation). April Frazier Camara is a visionary leader who understands how to develop programs and policy simultaneously to drive change. She is a co-founder of NLADA's newest section, the Black Public Defender Association (BPDA), which aims to increase diversity, equity, and inclusion in public defense and promote racial equity in criminal legal systems. As the 2020 Chair of the American Bar Association's influential Criminal Justice Section, April led a diverse group of stakeholders (prosecutors, defenders, judges and academics) to build consensus and adopt important ABA policy on race equity and prosecution, raising the age for juvenile prosecutions, reparations, abolition of private prisons, and other complex criminal legal issues.
In the aftermath of George Floyd's death, NLADA embraced the renewed focus on racial equity to advance even bolder, more impactful approaches to fostering systems, institutions, and policies that promote racial equity. In 2020, the NLADA Board of Directors formed a Racial Justice Task Force to build on the 2018 Racial Justice Action Plan and expand support for members' desire to leverage this time of racial reckoning to lead transformational change. April has become nationally known for her courageous leadership in advancing racial equity. In addition, she knows the far-reaching impact that this community of advocates on the frontlines can have in driving systems, institutions, and policies to embrace racial equity and lasting change. She understands the "magic" that happens when the NLADA community of civil defenders and client advocates comes together with its broad-reaching public and private partners. She is the right leader to have at the helm as NLADA works to implement the Racial Justice Task Force recommendations and support its community of advocates in playing pivotal roles to propel the nation closer to fulfilling the promise of equal justice for all.
Tim McFeeley led this search.