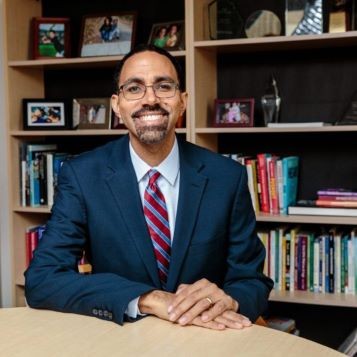 The State University of New York System
The State University of New York (SUNY), the largest public university system in the country, has appointed John B. King, Jr. as its next Chancellor, effective mid-January 2023. King's selection resulted from a year-long global search and was the Search Committee's unanimous choice.

Since 2017 King has been the President and CEO of The Education Trust, which promotes high academic achievement for all students, particularly those of color and those living in poverty. Prior to his tenure at The Education Trust, King served as the 10th US Secretary of Education under President Barack Obama. As Secretary, King advocated for the President's America's College Promise proposal, which sought to create a federal-state partnership to make attendance at community colleges free and invest in wrap-around services to support students on the path to academic success.

From 2011 until 2015, King served as New York State's first African American and first Puerto Rican education commissioner. During his tenure, King leveraged federal Perkins funding to invest in a statewide initiative connecting K-12 schools, higher education institutions, and business community members to tailor the high school curriculum to meet the needs of today's workforce.

King sits on the boards of the Century Foundation, the Robin Hood Foundation, the American Museum of Natural History, and Harvard University's Board of Overseers. King has served as an advisory board member for Former First Lady Michelle Obama's Reach Higher Initiative, the University of California's National Center for Free Speech and Civic Engagement, the National Center for Learning Disabilities, and the Prenatal-to-Three Policy Impact Center.

King has a BA in government from Harvard, a JD from Yale Law School, and an MA in the teaching of social studies and a Doctor of Education in educational administrative practice from Teachers College, Columbia University.

Michael Baer and Dan Rodas led this search with Neeta Mehta and Tatiana Oberkoetter, supported by Isabelle Atkinson.

Read the full press release here.