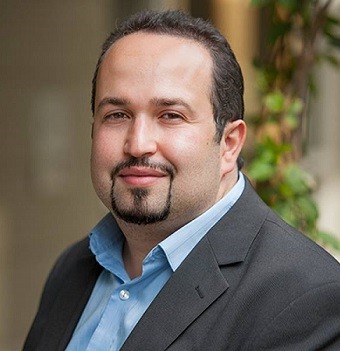 Vice Provost for Integrative Learning and Life Design, Johns Hopkins University
Johns Hopkins University has selected Dr. Farouk Dey as the inaugural Vice Provost for Integrative Learning and Life Design, effective August 27, 2018.

Currently the associate vice provost for student affairs and dean of career and experiential education at Stanford University, Dey is well-known in higher education circles for his keen ability to foster experiential learning programs that lead to meaningful work after graduation. In his newly created position at Johns Hopkins, Dey will play a leading role in the university's efforts to ensure that both undergraduate and graduate students across the divisions connect learning with their life aspirations.

"Farouk brings an impressive record of achievement at multiple institutions in developing and implementing university-wide strategies to improve career preparation and outcomes for students," says Johns Hopkins Provost Sunil Kumar. "His transformative leadership and strengths in building effective relationships with students, colleagues, and employers make him ideally suited for this important new role."

Dey wants to make sure Hopkins students go beyond coursework to embrace opportunities on and off campus.

"Without an overarching framework of life design and a road map for students on how to leverage their time in college, they may not engage in available opportunities like studying abroad, pursuing an internship, volunteering, or working with faculty on a research initiative," Dey says.

Before charting a new course at Hopkins, Dey says it's imperative that he first embarks on a "listening tour," reaching out to all stakeholders—students and their families, faculty, staff, administrators, alumni, and employers—to learn about their needs and address their concerns.

Dey believes that across the board, colleges and universities need to do more to create a seamless, interconnected learning experience for students—a philosophy, he says, that should infuse a student's entire tenure at Hopkins, whether they are first-year students or working on their PhDs.

"I'm especially concerned for our underrepresented groups," he says, "particularly first-generation and low-income students who might not have had the mentoring throughout their lives or the support from family members who would have gone to college to show them how to leverage the available resources and opportunities."

Since joining the administration at Stanford in 2013, Dey has led four collaborative centers focused on career education, international services, accessible education for students with disabilities, and help for those with learning differences like ADHD and dyslexia. Prior to his role at Stanford, Dey spent over three years at Carnegie Mellon University as director of career and professional development after serving for eight years in career development roles at the University of Florida.

A native of Algeria, Dey had firsthand experience as an international student when he pursued a bachelor's degree in business administration at the University of Wisconsin-Milwaukee. He earned both an MBA and a master's degree in education from Washington State University and a PhD in higher education administration from the University of Florida. He has keynoted at many national and international forums and written extensively on the future of work and transformational approaches in career and experiential education.

Dey's approach—and his appointment—dovetails with the university's Student Services Excellence Initiative, or SSEI, a collaborative effort that is well underway to ensure that student services are more streamlined and modernized. To that end, Dey plans to work closely with the career services offices across the divisions, multiple departments within Student Affairs, and many other university stakeholders to develop a strong community of partners to enhance students' learning and career outcomes.

Nancy Kass, vice provost for graduate and professional education, chaired the search committee for this position and is thrilled with Dey's appointment. "All of us within the university have a responsibility to further students' awareness of and readiness for the career opportunities that might follow. Farouk gave the search committee confidence that he could help us build the ecosystem needed to foster exposure and opportunities for our students and support them in taking meaningful next steps," Kass says.

Dey says that everything he has done in higher education up until now has prepared him for this unique role at Johns Hopkins.

"I am very enthusiastic about getting to know people—especially students—so that we can better understand the learning opportunities here and together, ensure that all students ultimately achieve their personal and professional aspirations at Johns Hopkins and beyond."

Sean Farrell led this search with Carmen Delehanty.

For further press coverage, click here.