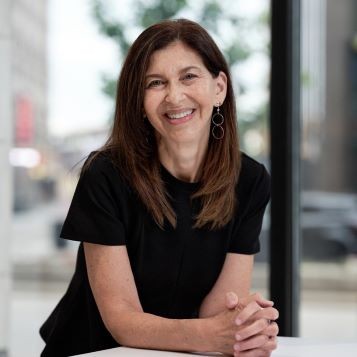 United Way of Greater Cleveland
We are pleased to announce that United Way of Greater Cleveland has named Sharon Sobol Jordan as the organization's next president and CEO, the first female CEO of the organization in its 122-year history. She will begin her role on September 30.
Jordan comes to United Way with extensive leadership experience in a wide-ranging career that has crossed sectors, disciplines, and boundaries. She is the founder and CEO of OpenSpace Solutions LLC, where she has advised and helped transformational leaders and organizations turn moments of change into opportunities to reimagine what's possible. One such organization is DigitalC, a Cleveland-based nonprofit digital equity tech startup, where she currently serves as interim CEO. Before OpenSpace, Sharon served as president and board member at Unify Labs, where she helped its co-founders and supported the organization in launching this nonprofit tech innovation center with the mission of powering inclusive prosperity.
She also has served as president and CEO of The Centers for Families and Children ("The Centers"), one of Ohio's oldest and largest private nonprofit human service corporations, offering a wide range of health, education, and workforce services. Jordan joined The Centers after a public service career with the City of Cleveland as director of law and special counsel to Mayor Michael R. White. She began her career as an associate at the Cleveland law firm Schneider Smeltz Speith Bell (formerly known as Schneider Smeltz Ranney & LaFond), where she became a partner.
Jordan serves on several boards, including the Bruening Foundation, City Club of Cleveland, Cleveland Jewish News, Cleveland Transformation Alliance, PolicyBridge, Temple Tifereth Israel, and University Hospitals East Market regional board. She is a leader-in-residence at the Cleveland-Marshall College of Law. She is also a member of the Leap of Reason Ambassador Community, In Counsel with Women, and Leadership Cleveland Class of 2003. Among her many awards and honors, she was named a Crain's Cleveland Business Woman of Note, YWCA Woman of Achievement, Smart Business Smart 50 leader in Northeast Ohio, Nortech's Innovative Leader of the Year, and an EY Entrepreneur of the Year finalist, and received the Ohio Glass Ceiling Award from Ohio Diversity Council.
A Cleveland native, Jordan holds a Juris Doctor and Master of Business Administration from The Ohio State University and a Bachelor of Science from Indiana University's School of Public and Environmental Affairs.
You may read the full press release here.
Karen Avery led this search with Joanna Cook, Alexandra Lolavar, and Isabelle Atkinson.