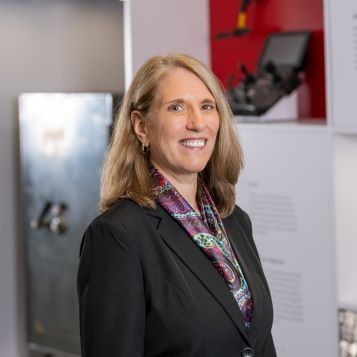 Underwriters Laboratories, Inc.
We are pleased to announce that Underwriters Laboratories Research Institutes has named Dr. Jill Crisman to lead the organization's Digital Intelligence Safety Research Institute (DISRI). She began her role on August 1.
DISRI, launched in February 2022 as a new UL research institute, works to thoroughly understand and mitigate the risks that big data, machine learning, artificial intelligence (AI), and autonomous systems may pose. As executive director, Crisman will lead the team's development of new frameworks to help ensure that systems that use digital intelligence are built with safety, ethics, and equity in mind.
Crisman's appointment is part of the UL enterprise's ongoing expansion and $1.8 billion commitment to tackle some of the most complex and urgent safety challenges the world now faces. With a career that spans government, the private sector and academia, Crisman joins UL Research Institutes from the Office of the Undersecretary of Defense for Research and Engineering. There, she served as principal director for artificial intelligence and machine learning, responsible for developing the department's AI and machine learning research and development road map. Prior to this role, she served as chief scientist at the Department of Defense's Joint Artificial Intelligence Center. Earlier in her career, Crisman served as chief scientist at Next Century Corp.; as a senior program manager for the Intelligence Advanced Research Projects Activity; and as senior research scientist at Virginia-based Science Applications International Corp., where she received the organization's Technical Excellence Award. She also served as a founding faculty member at the Franklin W. Olin College of Engineering and an associate professor at Northeastern University in Massachusetts.
Crisman earned a Ph.D. in electrical and computer engineering from Carnegie Mellon University in Pennsylvania.
You may read the full press release here.
Andy Lee led this search with Alexandra Lolavar and Madeline Fitzpatrick.