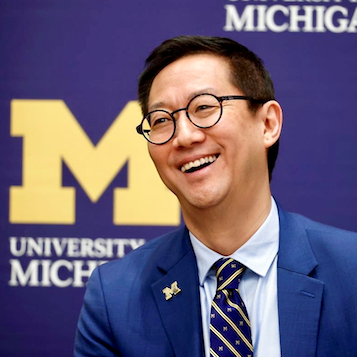 University of Michigan - Ann Arbor
We are pleased to announce the completion of our search for the next president of the University of Michigan. Following an extensive search, the Board of Regents of the University of Michigan have selected Dr. Santa J. Ono, current president and vice chancellor of the University of British Columbia, to become the University of Michigan's 15th President. Dr. Ono will begin his new position on October 13, 2022.
Ono has a long career in higher education leadership, serving at the University of British Columbia since 2016, and as president of the University of Cincinnati for four years before that. He is an experienced vision researcher whose pioneering work in experimental medicine focuses on the immune system and eye disease. As a researcher and scholar, he has taught at Johns Hopkins University, Harvard University, and University College London. He has also advised national and regional governments on higher education and mental health and served as director and chief scientific officer of iCo Therapeutics.
Currently, Ono serves as chair of the U15 Group of Canadian Research Universities, on the board of directors of Universities Canada and the Association of Public and Land-grant Universities, and as past chair of Research Universities of British Columbia. He is the leader of the University Climate Change Coalition, a network of 23 of the world's leading research universities and university systems committed to climate action. Dr. Ono is also a member of the International Advisory Board of Keio University, Terramera Strategic Advisory Board, Steering Committee of the Association of Pacific Rim Universities, the Government of Canada's Industry Advisory Ad Hoc Roundtable on COVID-19 Testing, and the boards of Fulbright Canada and Mitacs.
Dr. Ono is a Fellow of the American Association for the Advancement of Science, the Canadian Academy of Health Sciences, the National Academy of Inventors, USA, and the Johns Hopkins Society of Scholars. In 2022, he became a member of the American Academy of Arts and Sciences. He holds a BA in biological science from the University of Chicago and a PhD in experimental medicine from McGill University.
You may read the full press release here.
This search was led by John Isaacson and John Muckle, with Elizabeth Dorr Weithman and Mindy Cimini.